Choose the best mower for you and your garden.
Most homeowners replace their petrol mower once every 7 years, and a lot can change in that time. In fact, most of today's new mowers are easier to start, run smoother with less pollution, and are easier to use than mowers made just a few years ago. You may even find a few new features that make mowing fun!
We hope the following guide answers some of your questions and ultimately helps you choose the right mower.
The big decision: Riding or walk-behind lawn mower?
Here are some key factors to consider.
Lawn size and mowing time
How big is your lawn? A property larger than 2000 m2 typically takes several hours to mow with a walk-behind mower, while a riding mower can mow it in half the time or even less. If you are active, you enjoy mowing and your lawn is 1000 m2 or less, a push mower should be fine.
Mower size and storage space
A riding mower will take up more space in the garden shed or garage than a walk-behind mower. In addition, a walk-behind mower can get into confined areas that are difficult or even dangerous to mow with a riding mower.
Cost and maintenance
Obviously, a riding mower is going to cost more to purchase, and possibly more to maintain in the long run. However, it may be well worth the investment for the significant time savings you gain if you have a larger lawn.
Alternative options
If your needs fall between a riding and walk-behind mower, there are some "wide format" or two-blade walk-behind mowers that bridge the gap. Some of these units have cutting widths that approach small riding mowers and can cut more lawn in less time.
Other features to consider
Mulching
Toro's Recycler technology cuts grass clippings into a fine mulch and evenly distributes them back onto your lawn, so you spend less time emptying grassbags. The moisture and nutrients in the cut grass are returned to the soil, where they quickly feed the roots for a healthy, lush garden. Toro Recycler mulching is also environmentally friendly, since there's no need to dispose of clippings.
Auto drive
Rear-, front- and all-wheel drive mowers help propel the mower forward using power from the engine. For example, Toro's AutoMatic Drive System (ADS) senses and smoothly adjusts to your walking speed, even on slopes, and All-Wheel Drive (AWD) engages front and rear wheels independently to deliver the right amount of traction where it's needed. This can make mowing the lawn much easier, especially if you have a large or hilly lawn.
Blade stop
Blade Stop or Blade Brake Clutch (BBC) systems stop the mowing blade temporarily while keeping the mower engine running. This allows you to safely step away from the mower to move a ball or branch, and start mowing again without having to restart the engine. It's a helpful feature if you have children or trees.
Zero-turn mower
A zero-turn riding mower is able to turn in a very tight circle, allowing you to mow around trees and shrubs with ease. If you have a complex garden, this can significantly reduce your mowing time.
Cordless mowers
Cordless electric mowers use a rechargable battery and an electric motor to cut grass and propel the mower. These mowers are quieter, require less mainteninece and have 0 exhaust emmisions.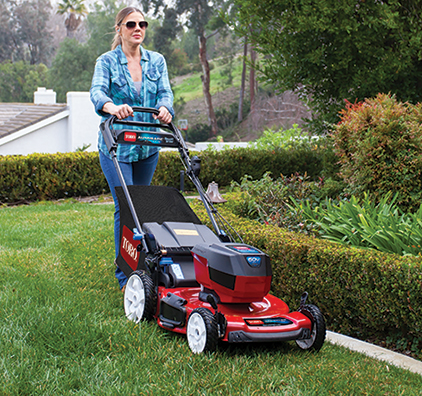 55 cm Recycler® Cordless Mower
Save time, finish faster, and make your job easier with the 55 cm Recycler 60V* Max Battery Mower with AutoMatic Drive System. Expect more with this easy-to-start, easy-to-use, and easy-to-maintain mower.
*Battery manufacturer rating = 60V maximum & 54V typical usage. Actual voltage varies with load.
BEST FOR:
Medium lawns (up to 1000 m2)
Saving space where storage is limited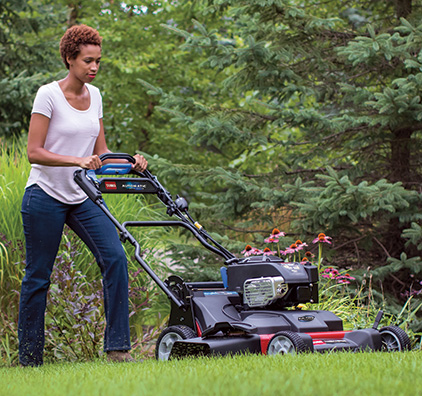 TimeMaster® Mowers
Mow up to 40 percent faster** with the TimeMaster® mower, featuring the unique Dual-Force™ cutting system. Twin blades chop clippings repeatedly into tiny bits and force them back into the turf, where they decompose quickly and provide nutrients and moisture to the soil.
BEST FOR:
Extra-large lawns (larger than 1000 m2)
Saving time with a wider cutting path
Saving storage space compared to a riding mower
**Time savings via wider cutting path and enhanced speed for TimeMaster vs. 53 cm Toro mower, and will vary with mowing conditions.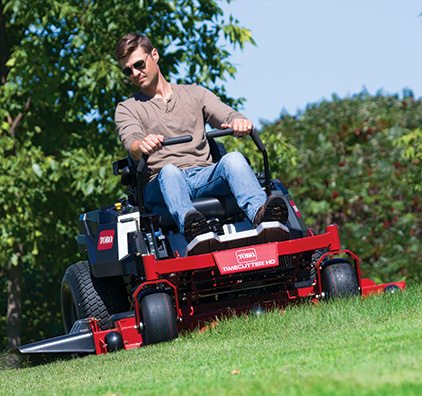 TimeCutter® HD Mowers
Enjoy professional results with extra comfort from TimeCutter® models with the MyRIDE® Suspension System. This system controls the motion of the operator platform, providing a smoother ride than a standard suspension seat. You can also quickly and easily adjust the ride settings to your personal preference.
BEST FOR:
Lawns larger than 10,000 m2
Large gardens with obstacles
Professional-quality cutting results
Extra comfort
Need more help?
We can't cover all the available options for all mowers here, but we do hope that this guide helped make your decision a bit easier.
Your nearest Toro dealer can answer all your questions and provide expert advice on chosing the right mower for you.
---
Flex-Force Power System™
Legendary Toro Performance, Now Battery Powered
Get more done and enjoy more free-time with the Toro® 60V* Flex-Force Power System™. Toro's legendary reliability, durability and performance, now available with the benefits of battery power. Finally, a cordless platform without compromises.
*Battery manufacturer rating = 60V maximum & 54V typical usage. Actual voltage varies with load.
Easy to Start
Easy to Use
Easy to Maintain
Superior Power