Find out how Toro Reelmaster 5010-H can save you time, fuel and money.
Introducing the

more powerful

more efficient

more reliable

game changing

Reelmaster 5010-H
The Reelmaster® 5010-H Fairway Mower Utilises PowerMatch™ Technology to deliver over 29.8 kW (40 hp) on demand, the hybrid drive system also provides a fuel savings of 20% or more. Add to that meaningful labour and maintenance savings, along with an amazing quality-of-cut, and you'll quickly understand why the new Reelmaster 5010-H fairway mower is a true "game-changer" for you, your budget and your golfers.
Game Changer
You shouldn't have to sacrifice mowing power to realise true efficiency and labour savings. Three years of real-world field testing have proven not only that the Reelmaster 5010-H has the power to perform in the most rigorous golf course conditions, but it also saves you significant time and money. In short, the Reelmaster 5010-H is a true "game-changer".
---
POWERMATCH TECHNOLOGY
Seamlessly matches power output to actual requirements
Conserves fuel
Reduces fuel cost & engine noise
48-VOLT BATTERY PACK
Lasting energy
Maximum durability
Automated recharge (no plug in)
Sealed, spill proof battery case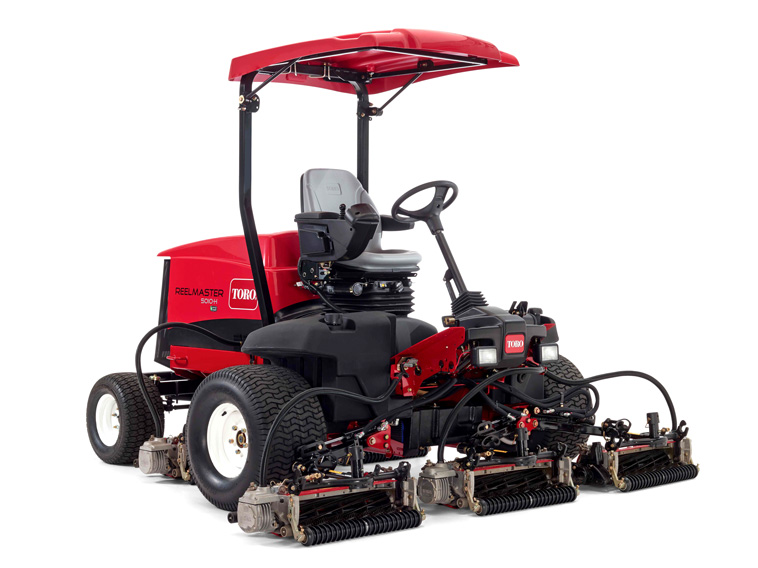 LOW-DRAG CUTTING UNITS
Low-drag seals
Low-friction bearings
2.4 kW savings
REDUCED MAINTENANCE
No cutting unit hydraulics to maintain
Eliminates over 100 potential leak points
Service reminders
PowerMatch
PowerMatch™ – is patented Toro technology that enables the Reelmaster 5010-H to match the power generated to the power required for the vehicle and cutting units by conditions. PowerMatch utilises a 18.5 kW (24.8 hp) Tier 4 compliant Kubota diesel engine mated with an inline motor generator and a self-charging 48-volt battery pack. The result is plenty of power, but only when needed, which saves on fuel, operating costs, and the carbon footprint.
---
More Power
When hilly terrain or challenging mowing conditions demand more power, the battery pack takes the load of the cutting units away from the engine, leaving it with more available horsepower for the traction circuit. When even more horsepower is required for verticutting or scalping, the batteries take on the cutting unit load and send the reserve battery power back through the motor generator, which provides over 29.8 kW (40 hp) for the traction system.
---
Maintenance and Efficiency
Toro's unique design eliminates all of the cutting unit's hydraulic components plus all of their maintenance. That equals up to £850 in savings based on suggested retail parts pricing, average labour rate, and suggested service interval. Also, over 100 potential hydraulic leak points were removed from the cutting unit system by switching from hydraulic cutting unit motors to electric cutting unit motors.
---
SPECIFICATIONS
| MODEL | 5010-H |
| --- | --- |
| ENGINE | |
| Type | Kubota 3-cylinder diesel with 48-volt battery pack system |
| Power | 30+ kW (40+ hp) available @ 3000 rpm |
| TRACTION UNIT | |
| Drive System | Hydrostatic with wheel motors |
| Traction Drive | 2WD Standard; CrossTrax™ AWD Optional |
| Transport Speed | 0-10 mph |
| Mowing Speed | 0-8 mph |
| Mow Speed Limiter | Foot Activated Lever |
| Fuel Tank Capacity | 53 litre |
| Height | 160 cm |
| Length (2WD) | 281.9 cm |
| Transport Width | 233.7 cm |
| Length (2WD) | 233.7 cm |
| Overall Width | 288.3 cm |
| Weight | 1,259 kg (2WD), 1,282 kg (AWD) |
| CUTTING UNITS | |
| Total Width-of-Cut | 254 cm |
| Reel Diameter | 12.7 cm or 17.8 cm |
| Number of Blades | 8 or 11 |
| Height-of-Cut Range | 6 to 19 mm |
| High Height-of-Cut Limit | 50.8 mm |
| High Height-of-Cut Limit | 50.8 mm |
| WARRANTY: | Two year limited. Refer to Operator's Manual for further details. |
*Compared to a conventional 5010 Series Fairway Mower.
†Average savings based on 800 hours of utilisation, Toro recommended maintenance and standard USA labour rate.
---
Need a Demo or have a question?
Get in touch
Would you like to demo the Reelmaster 5010-H? Do you have a question about the Reelmaster range? Please send us a note, we will respond as soon as possible.