For Training & Sports Facilities

PASSION

UNITED.
EQUIPMENT & IRRIGATION FOR TRAINING & SPORTS FACILITIES
Preparing the perfect stage for the game is a matter of timing and accuracy. The way grass reacts after a cut is crucial not only for its optimum appearance but also for its long-term health. That is why Toro puts a lot of effort in developing equipment that offers you more.
EQUIPMENT FOR TRAINING & SPORTS FACILITIES
Toro mowers, sprayers, aerators or utility vehicles represent the technological pinnacle of their time and are designed for low-maintenance effort and minimum downtime. Making use of the Toro Performance Parts Programme, single genuine parts can be easily replaced to prolong the lifecycle of the equipment. This makes Toro a good partner for clubs on a tight budget. Because quality and durability always pay off in the long run.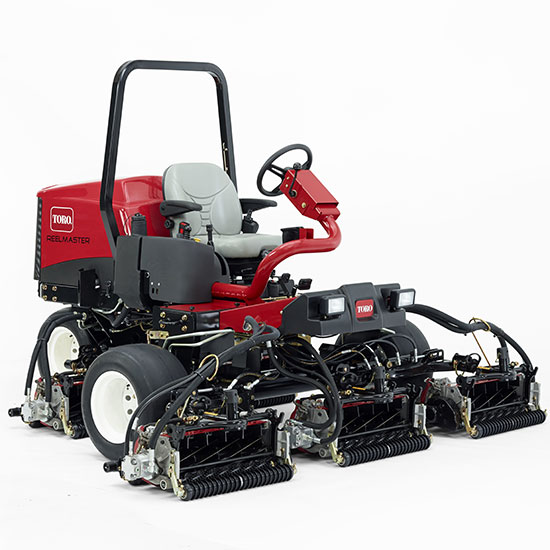 Reelmaster® 3555-D/3575-D
Large Area Reel Mower
Productivity, efficiency, simplicity and a lighter weight, packed into a compact chassis. The Reelmaster 3555 and 3575 are highly manoe­uvrable and engineered to decrease turf com­paction in sensitive areas.
Kubota 18.5 kW diesel engine
254 cm width of cut
13 to 25 mm / 6 to 19 mm height of cut
Series Parallel 3-wheel-drive, 0 to 6 mph
Cut Finish
Soil Compaction
Grass Collection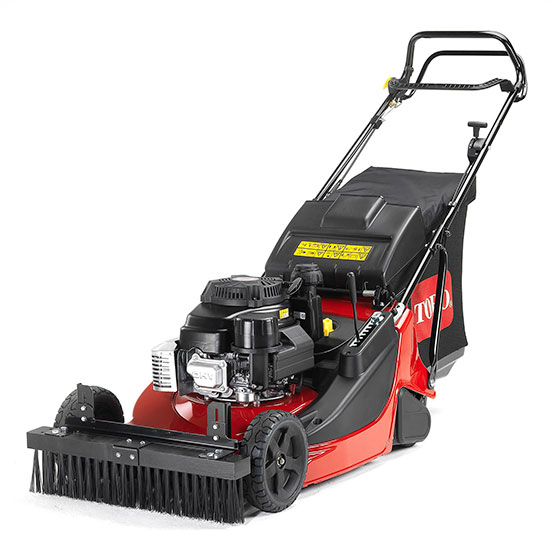 ProStripe® 560
Striping Mower
Provides a precise cut and clean striped finish, leaving your turf looking its best. The MatchCut™ technology enables a precision setting to make post-game cleanup a breeze.
Kawasaki® FJ180V KAI 4-stroke engine
56 cm width of cut , 80 L grass bag
13-position, 13 to 60 mm height of cut
3 mowing speeds, up to 2.1 mph
Cut Finish
Soil Compaction
Grass Collection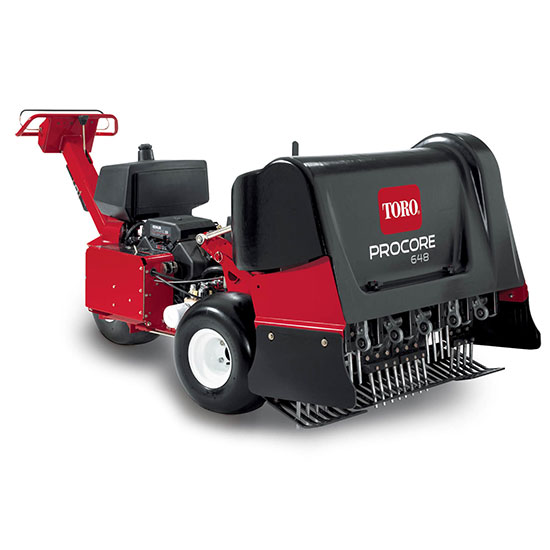 ProCore® 648
Aerator
Healthy turf depends on managing compaction and ensuring that the right amount of air, water and nutrition reaches the roots. The ProCore 648 is probably the most productive and efficient walking aerator on the market.
Power supply 17,2 kW engine
122 cm aerating width
Up to 102 mm aerating depth
0.75 to 1.5 mph working speed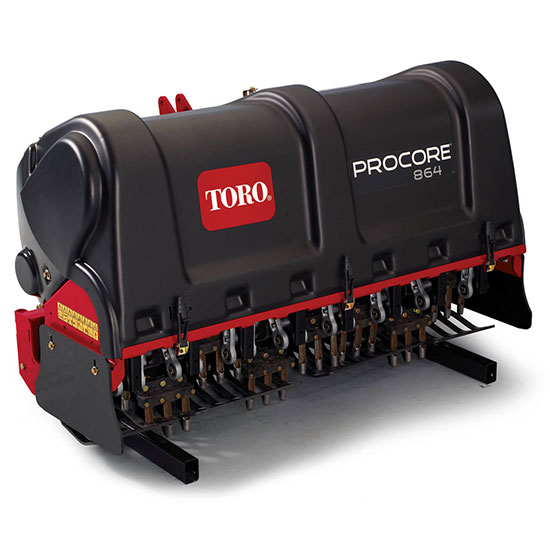 ProCore 864/1298
Large Area Aerator
The ProCore 864 and 1298 have the proven coring head technology from the ProCore 648 combined with an improved platform. The result is the most durable large area aerators available today.
Power supply 22.3 kW tractor/ 33.6 kW tractor
163 cm/249 cm aerating width
Up to 127 mm aerating depth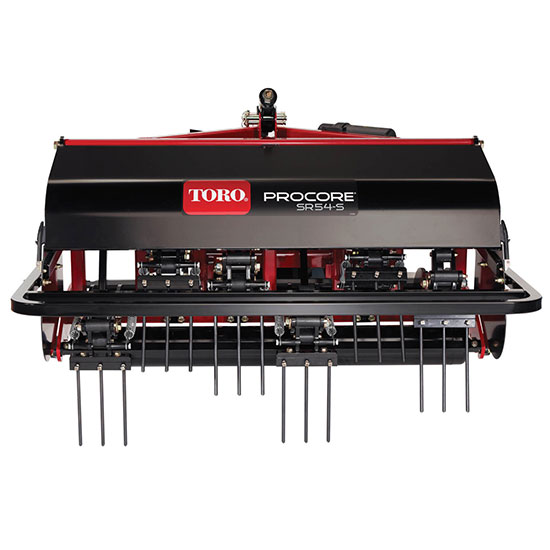 ProCore SR Series
Deep Tine Aerators
The durable ProCore SR Series deep-tine aerators withstand the most extreme aeration conditions, helping your turf to thrive.
122 to 198 cm aerating width, up to 41 cm aerating depth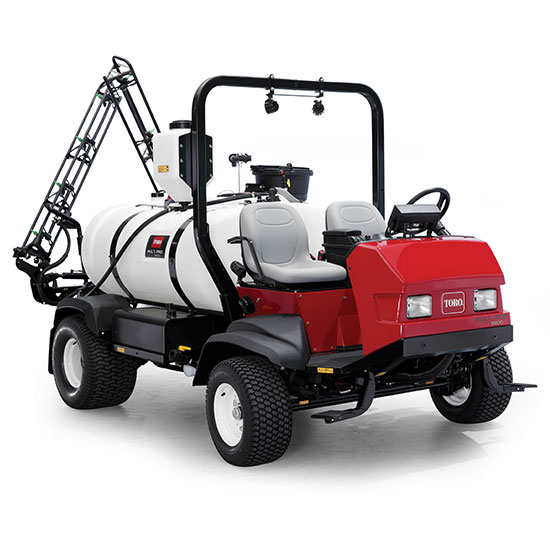 Multi Pro 5800
Sprayer
Every aspect of this spray system has been engineered to deliver unsurpassed spray accuracy, aggressive agitation and faster response time. Consistently delivers desired spray rates, even in the most demanding environments.
26,5 kW diesel engine (bio-diesel ready)
1,136 L tank capacity
564 cm, 3 section truss-style boom
Sprayer control console
IRRIGATION FOR TRAINING & SPORTS FACILITIES
A Toro system is always a highly efficient and sustainable energy and water tool. Thanks to the advanced configuration options and adjustment possibilities, you can apply water exactly as you need to. All this will help you save money and keep your total cost of ownership (TCO) down.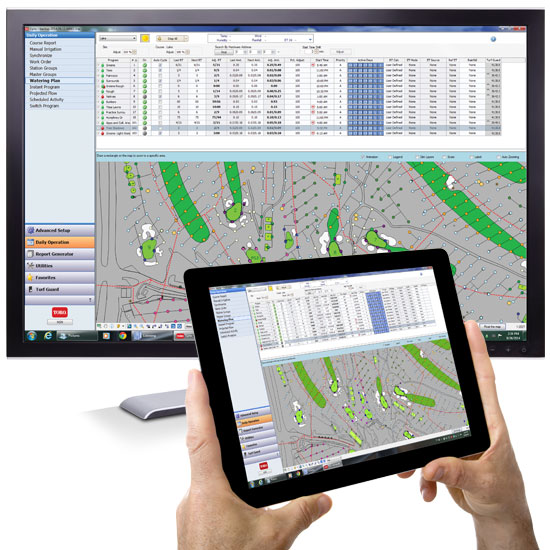 Lynx®
Central Control System
Developed to address the unique challenges of spacious sports facilities. With the Lynx System, you control all of your essential irrigation information from one application. Direct each and every sprinkler via an intuitive interface, be it from a PC or a mobile device.
Lynx can be installed with a 2-wire or a satellite system
Easy to install, use and monitor
Accessible from anywhere at any time
Manage water budgets exactly by runtime minutes or application centimetres
Superior system safety with 24/7/365 NSN support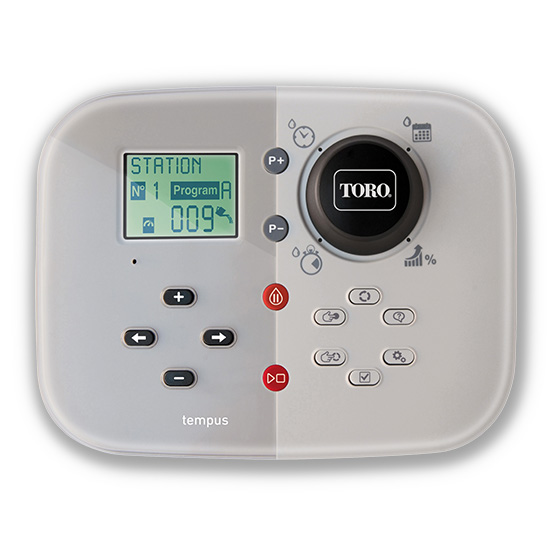 TEMPUS® Pro
Central Controller
Easy installation and programming, along with IOT Wi-Fi ready functionality make the TEMPUS Pro Series an ideal choice for small to medium sports venues. With water meter inputs and the ability to link TEMPUS Pro to weather (or other) sensors, this controller is the perfect water management tool.
Wi-Fi module to remotely monitor and access the controller from anywhere, even with a smartphone
Armchair programming allows to remove the controller from the wall support to set the watering schedule
From 4 to 16 stations: 4 base stations with expansion modules of 4 stations each up to 16 stations
Multilingual display in English, Spanish, French, German and Italian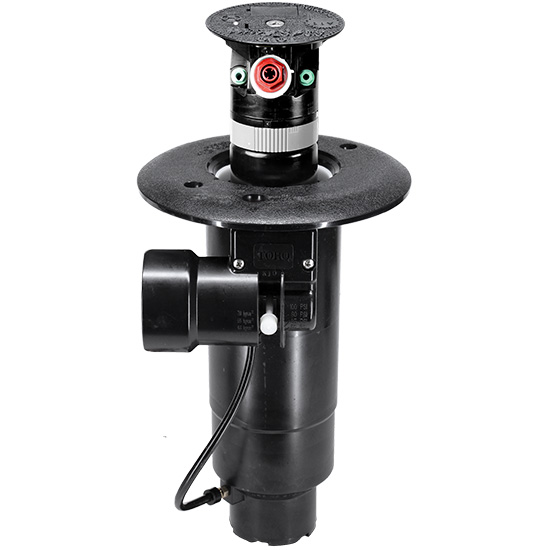 FLEX800™ Series
High-end Rotors
One of the industry's most acclaimed sprinkler families, known for its quality and durability. It comes with the patented Toro TruJectory adjustment, ratcheting riser, part- and full-circle drive and the largest nozzle selection in the market.
Puts water precisely where you want it for maximum distribution uniformity
Water- and energy-efficient design
Economically adjust the covering area
Indestructible stainless-steel valve seat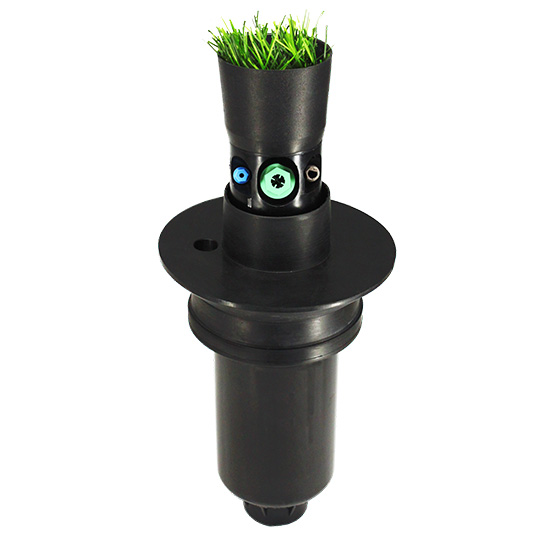 TS90® with TurfCup™
Sprinkler for large turf areas
Provides unparalleled features and performance into a single, fully adjustable rotor. Designed for large turf areas, its radius of 16 to 29 m is perfect for sports fields. The TurfCup version seamlessly integrates into either natural grass or artificial turf.
Wide range functionality within a block system
TruJectory allows for the fine tuning of nozzle spray height
Part- and full-circle in one sprinkler with back nozzle capability
TurfCup enhances player safety and surface playability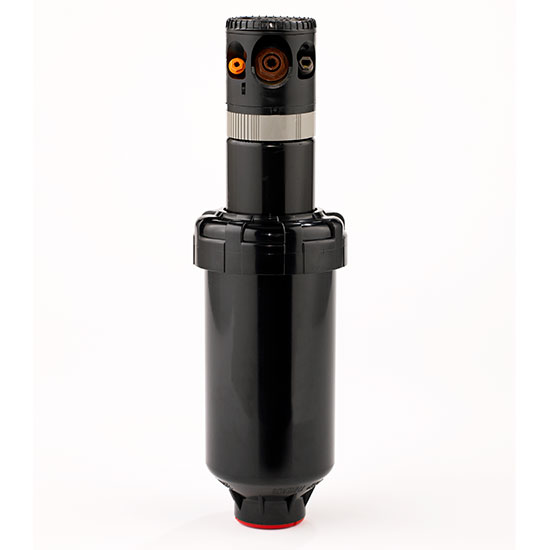 TS90
Sprinkler for large turf areas
Benefit from a load of features the high-performance sprinkler families have to offer with the reduced costs of a block system. For example, the fine tuning of the nozzle spray height from 7–30° to ensure wind resistance and head-to-head spacing.
Part- and full-circle in one sprinkler with back nozzle capability
Constant-Velocity Drive for reliable rotation speed from sprinkler to sprinkler
Optimum design for the wide turf surfaces of sports facilities
Only 5.6 cm exposed cap diameter