Choose Toro for world-class results.
Players expect the best. Count on Toro to help you deliver it, because we understand what it takes to maintain a world-class golf course. From outstanding quality of cut to increased productivity, Toro golf equipment is designed to perform. Trust Toro for exactly what you need to do the job right the first time, every time.
100+ Years
FOCUSED ON Golf
400+ Patents
AROUND THE WORLD
on Toro Innovations
More Than 3%
OF TOTAL REVENUE
Is Spent on R&D
Top Courses
CHOOSE TORO
Golf Equipment
Your Input Counts
We consult with golf professionals to identify their challenges and needs, and their feedback helps guide us as we design new products. We also follow up throughout the process to test and reaffirm that we are delivering the solution they need to do their job.
New Product Development
Engineers and agronomists at our Center for Technology, Research and Innovation (CTRI) continually work on new solutions to save fuel, increase productivity, conserve water and improve turf health. It's all part of our commitment to continuous improvement.
Real Partnership
More than supplying equipment, we want to be a partner you consult with for your business needs. We treat customers with fairness and respect because relationships matter to us. Whether you are a superintendent, a general manager or an operator, Toro will work with you to find the best balance of benefits with the lowest total cost of ownership.
Service and Support
From service at local distributors to certified training for your maintenance technicians, we help you get the most from your Toro equipment. We also support many industry associations and non-profit organizations that work to advance the game of golf.
A Legacy in Golf
Toro has been manufacturing equipment to maintain grounds and landscapes for more than 100 years. Early in our history, we were the first to produce mechanical turf maintenance products for use on golf courses, and we have long been a leader in golf course equipment and irrigation.
Wide Range of Applications
Toro products are used to create championship turf at many of the world's premier golf courses. But they also stand up to the toughest conditions. From parks and roadside maintenance to landscape projects and university campuses, grounds professionals count on Toro for extreme durability.
Solutions You Can Depend On
Golf courses are constantly under pressure to do more with less. Toro equipment is designed to help you make the most of the resources you have. With user-friendly features and durability for the toughest conditions, you can depend on Toro products to keep operators at every skill level productive all day long.
Everything we do is shaped by listening to customers, because we want to provide more than products — we want to offer solutions to the challenges you face. When you choose Toro, you get more than golf equipment and irrigation products. You get the support of a local distributor who is invested in your success.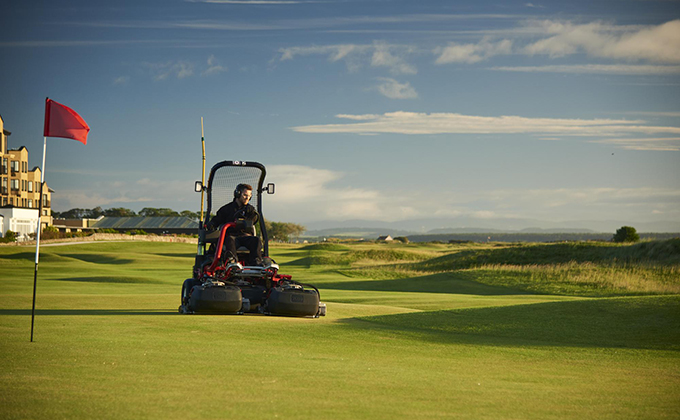 ---
Smart Products Help You Do More
Stay on top of golf course management with the latest Toro innovations, built for versatility to help you get more out of your investment.
ONE MACHINE. MANY JOBS.
Toro® Outcross™ 9060

Get ready to do more with the Outcross 9060. This compact workhorse combines the benefits of an agricultural tractor and a utility vehicle in one timesaving, multi-purpose machine. It's compatible with a range of attachment brands, so you can connect buckets, forks, snowplows and much more. Plus, four-wheel independent drive and steering reduce the impact on turf, so it's perfect for golf courses.
POWER AND VERSATILITY TO GET THE JOB DONE
Toro Workman® GTX

Impressive power, automotive-grade steering and exclusive suspension and braking systems make the Workman GTX the most versatile, practical and comfortable utility vehicle in its class. This grounds and turf crossover vehicle features a split frame that articulates to keep all four wheels on the ground in uneven terrain. Coil-over shocks also deliver a smoother ride to minimize operator fatigue.
Toro Golf
Choose from a full range of class-leading golf equipment, click to learn more